MUSIC
Here at Midwest Lindyfest, we are dedicated to supporting talented, authentic jazz musicians who make dancing that much better! Our lineup is meant to get your feet moving, your mind active, and your vocal cords tired. Get ready to scream, shout, and swing out all weekend long.
THURSDAY RIVERBOAT DANCE – BAND
MISS MYRA and THE MOONSHINERS – one of our favorite local groups, and we're pleased to have them playing us down the Mississipi River for an evening on our Riverboat Cruise.
Miss Myra and The Moonshiners are a formidable 5-piece swing band bringing a fresh female-driven perspective to traditional New Orleans and hot club jazz, playing a broad repertoire of classic tunes from the '20s and '30s and inspired originals. With powerful vocals, a smoking horn section, and sweet rhythm, they are guaranteed to lift spirits and fill the dance floor.
FRIDAY NIGHT MAIN dANCE – BAND LEADER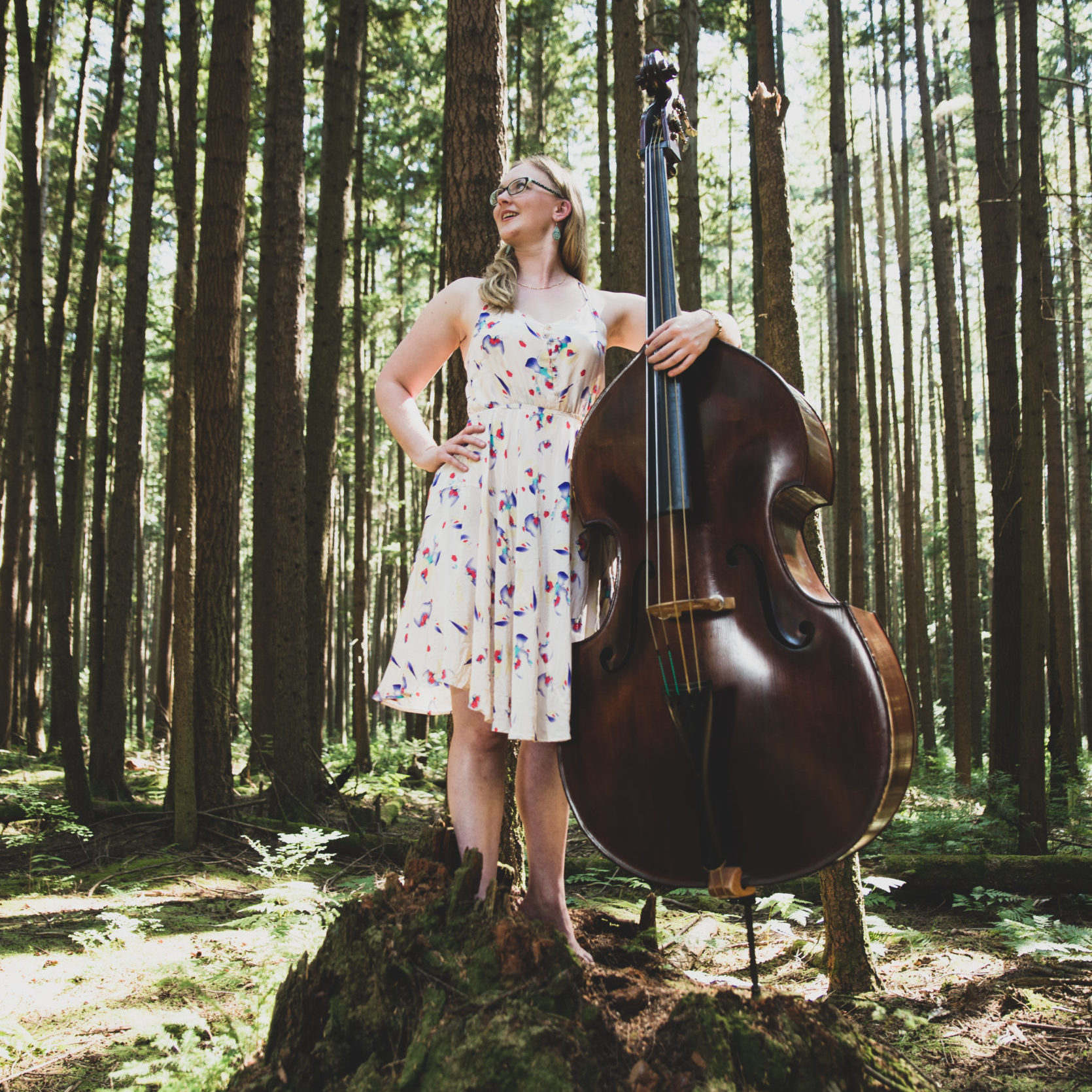 JEN HODGE – a busy BC-bred / NYC-based bass player, vocalist, bandleader, and arranger – is a versatile musician who can be found playing with a wide variety of artists allover the world. Jen's playing is characterized by hard swinging grooves, an expressive and energetic playing style, and an evident, infectious love for making music. Her steadfast bass playing and consummate professionalism have taken her to stages all over Canada, the USA, China, Spain, France, the UK, Sweden, and the Caribbean.
In February 2018, Jen released her most recent Jen Hodge All Stars album, "All's Fair in Love and Jazz", which peaked at #2 on the !earshot National Jazz Chart in Canada, cracked the JazzWeek top 100, and spent a week as the highest charting self-released title on the North American College & Community Radio jazz charts, where it peaked at #20.
SATURDAY NIGHT MAIN dANCE – BAND LEADER
JONATHAN DOYLE – Saxophonist, clarinetist, jug blower, bass saxophonist, composer, and arranger Jonathan Doyle lives in Port Townsend WA in the Pacific Northwest. He still spends time in Chicago, Austin TX, and on the road.
Jonathan grew up and got his start in the Chicago area. In the mid-90s he left DePaul's School of Music to begin playing professionally, at first with the Mighty Blue Kings and then the Four Charms. He has also worked with Chicago's emerging improvisers such as Josh Berman, Jason Adasiewicz, Design Flaw, and Grey Around Green, and developed an interest in country blues and jug band music playing with the Wabash Jug Band. In 2004, Mr. Doyle moved to Austin to pursue his love of acoustic and roots music afresh. After a brief stint with the Asylum Street Spankers, he went on to freelance in Central Texas' vibrant traditional jazz, swing, and western swing scene, playing with well-established acts such as Willie Nelson and Asleep at the Wheel, and the Jim Cullum Jazz Band, as well being a part of many fine local bands such as Thrift Set Orchestra, Albanie & her Fellas, Stan Smith and the Jazz Pharaohs, Aunt Ruby's Sweet Jazz Babies, East Side Dandies, White Ghost Shivers, Whit Smith's Hot Jazz Caravan, The Giant Three and his own projects The Jonathan Doyle Quintet / Swingtet. His time in New Orleans led to touring with the hot jazz and traditional blues band, Tuba Skinny. And his connection to Chicago led to playing with the amazing Fat Babies as well as guitar maestro, Joel Paterson. More recently he has started performing with Naomi & Her Handsome Devils, Hal Smith's Swing Central, and the Casey MacGill Orchestra!
Jonathan is committed to crafting original music as well studying the American musical traditions. He strives to organize and be a part of bands whose music is rooted, yet distinct. And to play for listeners and dancers anywhere they'll have him!
Sunday NIGHT MAIN dANCE – BAND
THE SOUTHSIDE ACES – Southside Aces perform traditional New Orleans jazz. The band first began as the brainchild of Clarinetist Tony Balluff and Sousaphone player Erik Jacobson. Their whispers and rumors materialized in Tony's foyer near Pillsbury and 27th in South Minneapolis, late August 2003. Since their first gig on a flatbed truck in Apple Valley, they've played weddings, festivals, clubs— "music furnished for all occasions". The Aces self-produced and released five albums : All Aboard!! , Bucktown Bounce, A Big Fine Thing, their Christmas album, Santaphone, and their latest, Second Thursday. Their music garnered the declaration, "A true authentic New Orleans dance-hall style band" from the New Orleans Traditional Jazz Quarterly.
In New Orleans, the jazz tradition thrives off a wide array of tunes and styles. With such a wealth of good music from which to draw, the group is dedicated to highlighting the songs and not the players. They possess a diverse repertoire, with a roll call that includes the names of Louis Armstrong, Jelly Roll Morton, Hoagy Carmichael, Duke Ellington and Bix Beiderbecke. Many songs from lesser-known constellations in the jazz firmament such as AJ Piron and Tiny Parham found their way in there, plus Crescent City classics like Bourbon Street Parade, Just A Closer Walk With Thee and St. James Infirmary. Finally, lets not forget the funky rhythms of brass band powerhouses like Mardi Gras In New Orleans and Palm Court Strut. Songs as good as these don't need a lot of help!
The Southside Aces have performed at the Times and the Dakota jazz clubs, Peavey Plaza, Mears Park, Twin Cities Jazz Fest, Hopkins Jazz Festival, and the Doc Evans Jazz Festival. They have driven dancers to a frenzy at national lindy hop competitions: "Showdown", in Minneapolis; "Big Apple" and "Cowtown Jamborama" in Omaha. We have Balboa covered as well: "Rocky Mountain Balboa Blowout" and "Minnesota Balboa Fest." All of which, if you're keeping score, makes us a "territory band". Found at weddings, birthdays, banquets and memorials, the Aces utilize the traditional cannon for its sweetness, its spice, its joy, its sorrow; whatever the mood should call for. They'll even take requests.
You can now take the Aces home with you thanks to their self-released CD, Second Thursday. Find the CD and samples of the songs at CD Baby .